Poly-Ribbed Belts are an ideal solution for compact drives in household appliances and heavy machinery. Ribbed Belts enable economic solutions even under difficult drive conditions, such as large transmission ratios, high Belt speeds, small pulley diameters and back idler pulleys. Speed ratio up to 40:1 possible, smoother, vibration free, Low static, noise free, high flexibility.
Reinforcement polyester stiff cabled cord. Use of a single multi-ribs belt eliminate the necessity to use multiple matched set of belts. Poly-Ribbed Belts consist of multiple V-grooves. The design allows operation on small pulley diameters. Ribbed Belts offer high Belt speed. Ribbed Belts are designed for high power transmission ratios and offer high power output.
Poly-Ribbed / Poly V-Belts are available in PH, PJ, PK, PM, DPK, L profile.
High power transmission capacity

Suitable for small pulley diameters

Maximum Belt linear speed up to 60 m/Sec

Highly flexible, noise free & smooth running

Can be used for speed ratios up to 1:30

Anti-static oil & heat resistant

Temperature range: -25°C to +100°C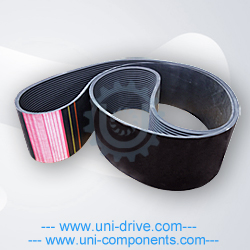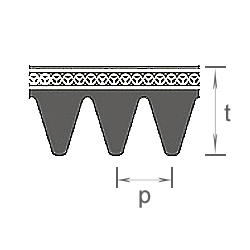 Section
Thickness 't'
(mm)
Rib Pitch 'p'
(mm)
No. of possible
Ribs
MPD Minimum Pulley Dia
(MM)
Min
(mm)
Max
(mm)
PH
2.9
1.60
2 to 280
13
280
5100 mm
PJ
3.8
2.34
2 to 235
20
280
5100 mm
PK
4.5
3.56
2 to 150
45
280
5100 mm
PL
7.6
4.70
2 to 110
75
500
5100 mm
2 to 45
5100
10000 mm
PM
13.3
9.40
2 to 52
180
950
5100 mm
2 to 24
5100
10000 mm
Also Available in FRAS (Fire resistant, Anti-static)
FRAS Product Range: Sections: PJ, PK, PL, PM
Features: Fire resistant, antistatic, electrical resistance values are most stringent than ISO 1813, fulfills requirement according to pr-EN 13464-5:2003 & ISO 9563:1990, ATEX certified
Temperature range: -25ºC to +100ºC
Applications: Coal mines, fire prone areas, petrochemical installations etc.
ATEX Certified
Also available in HIGH TEMPERATURE BELTS
High temperature Product Range: Sections: PJ, PK, PL
Features:
• Temperature range: -35ºC to +130ºC
• High temperature resistant
• Longer service life
• Crack & damage free in high temperature applications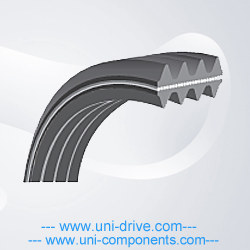 Also Available in DOUBLE SIDED POLY-RIBBED BELTS
Double sided Product Range:

Sections:
DPK: 2 to 22 ribs – DPK Section length: 1195 mm to 3105 mm
DPL: 2 to 22 ribs – DPL Section length: 1200 mm to 3105 mm
Temperature range: -25ºC to +100ºC
Applications: High speed engines, serpentine drives, textile machineries etc.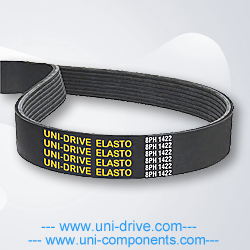 Also available in ELASTICATED Poly-Ribbed BELTS

Section: EL -PJ : 2 to 20 ribs
Range: 356mm to 2240mm
Features: Belt with elastic properties
Temperature range: -25ºC to +100ºC

Applications: Washing machine & dryers.

Also available TOPCOATED Poly-Ribbed Belt for Packaging Machinery
Features:
• Profile top rubber, specific to applications
• Facilitates excellent cushioning coupled with extra elasticity
• Excellent flexibility to prevent cracks or tearing
• Optimum friction suitable for providing proper support to contact material
• Vulcanized as a single piece to ensure excellent adhesion
• Abrasion resistant
• Longer life
• Top profile thickness: 1.5mm, 3mm, 6mm, 8mm & 10mm
Temperature Range: -18ºC to +80ºC
Product Range:
PJ: up to 36 ribs, Length: 700 mm to 2000 mm
PK: up to 24 ribs. Length: 700 mm to 2000 mm
PL: up to 18 ribs. Length: 700 mm to 2000 mm

Application:
FFS (Form-fill & seal) machine, bakery, paper & printing, soaps & cosmetics, cable-drawing, plastic tube drawing, bottling plants etc
Note:
1. Belt selection should strictly be done on the basis of temperature, top coat hardness & application
2. Availability of a particular size in product range to be cross checked before placing the order